Flocker's Guide
Ride your bike to the Crossroads
Avoid all that car nonsense and have your bicycle stored and watched over at our Free Bike Valet by the caring staff at BikeWalkKC, brought to you by Boulevard Brewing Company. Swing by the Flock Party tent with your valet ticket for a little special somethin'.
Bring a water bottle
Don't hate: hydrate. Bring a vessel and fill it up at our water station and keep those plastic cups off the street! Beautify your neighborhood for flocking by disposing of waste and recycling in proper receptacles.
Bring a bag
Big or small, cute or ugly, bring something to haul off your handmade treasure from the maker's market or a fresh art print from Oddities Prints.
Bring your listening ears
Crossroads Flock Party brings you 8 of Kansas City's most interesting musical groups, so be prepared to hear something excellent that you haven't heard before.
Bring your thoughts
Feed Pop Up Charlie's curiosity and get to know your neighbors by contributing to a community-driven art piece, supported by the folks at MoBank.
Come hungry
Satiate your appetite with street fare from Mildred's, The Sundry, and The Bite.
Come thirsty
Beer and cocktails at the Flock Party Bar: a proven way to loosen up that ego and get to know your neighbors.
Leave yourself behind
Help us celebrate what's unique about Kansas City and the Crossroads by being yourself and appreciating others doing the same.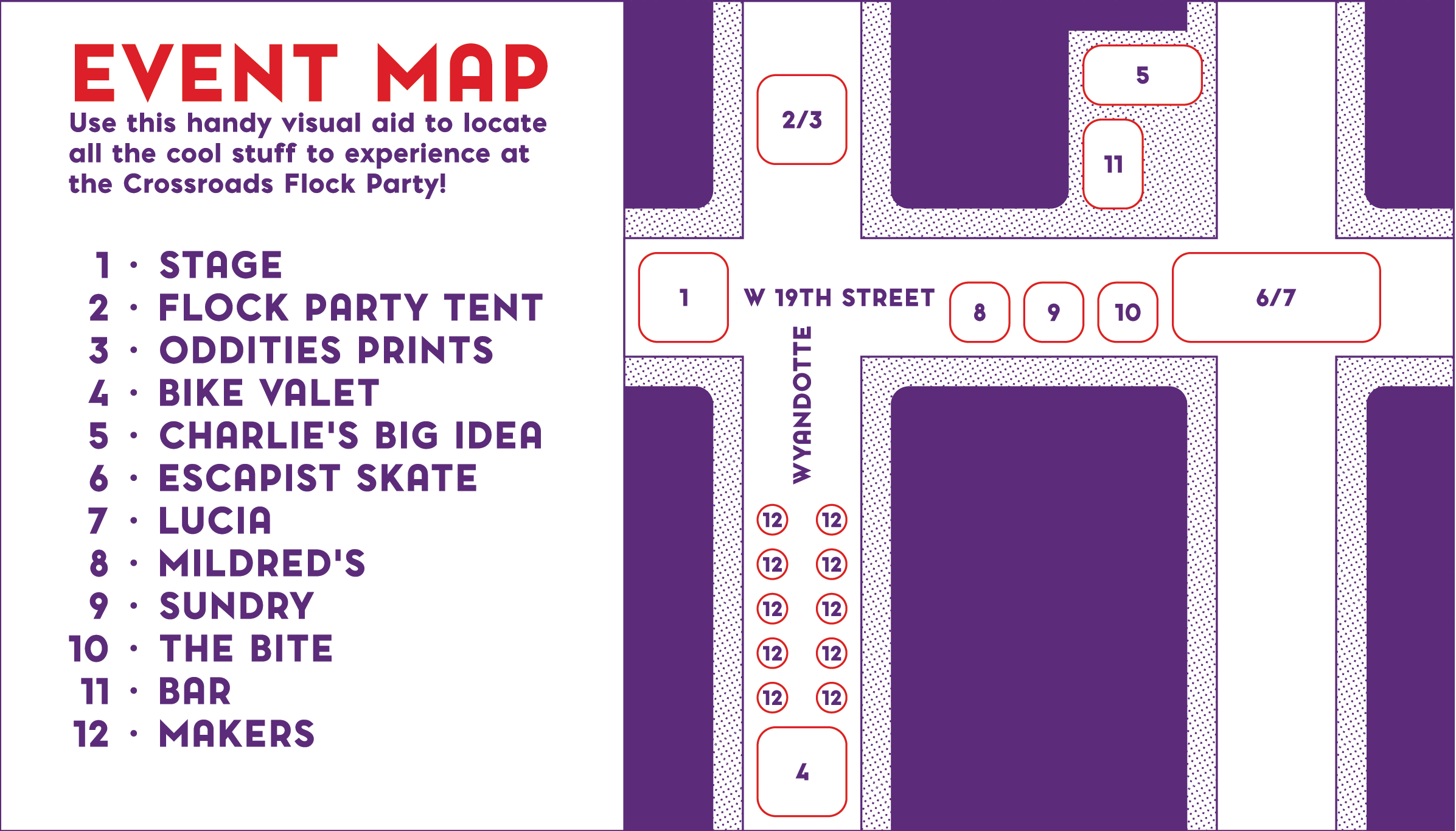 Music
A snapshot of some of the best regional independent music around on the Flock Party stage in 2017.
Performances & Installations
Kansas City's favorite gilded doodle wizardPop-Up Charlie will be taking your responses to one of his burning questions and giving them life on paper. Made possible by our friendly neighbors at Missouri Bank.
Escapist Skateboarding Demonstration/Free Skate
Catch some serious skating business going down right across from the main stage starring our friends from Escapist Skateboarding. Bring your deck and this completed waiver over for a free skate!
Lucia Aerial Performing Arts
Don't look down! Witness the spectacle of Lucia Aerial Performing Arts students as they put on three late evening performances.
Free Bike Valet
Roll up to Crossroads Flock Party like a VIP and have your bike safely stored by BikeWalkKC's Bike Valet, made possible by Boulevard Brewing Company.
Food & Drink
Grab some street food from local food joints Mildreds, The Sundry, and The Bite, then wash it all down with beer and cocktails from the Flock Party bar, made possible by our friends at recordBar.
Makers
Crossroads Flock Party wouldn't be complete without a neighborhood market!